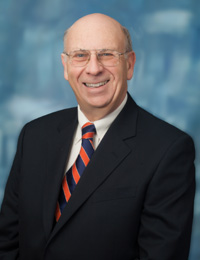 Steven C. Haas
Steven C. Haas is a principal in the firm, focusing his practice on commercial lending and business transactions, real estate, and land use and development. Mr. Haas graduated in 1967 from Syracuse University where he received a B.A., and from George Washington University where he was awarded a J.D. in 1970. After serving as Squadron Section Commander in the United States Air Force, Mr. Haas returned to the North Country. He was admitted to practice before courts in New York and the District of Columbia and New York State, along with the United States District Court for the Northern District of New York. Mr. Haas is a member of the New York and Jefferson County Bar Associations (past president).
Mr. Haas has been involved with numerous community organizations. He has also served as a trustee for the U.S. Department of Justice in bankruptcy matters and as an arbitrator for the American Arbitration Association in commercial disputes. Currently, Mr. Haas serves on the Character and Fitness Committee of the Fifth Judicial District, and on the Board of Trustees of Jefferson Community College (past chairman).
Mr. Haas resides with his wife in Watertown. Mr. Haas is an avid Syracuse University sports fan. He continues to play the bagpipes with colleague, Keith B. Caughlin. He also enjoys traveling and fishing.